Intelligent fabric type detection system
The washing machine's memory contains a database of 20,000 possible fabric combinations. Analysis of this data allows you to select your own washing algorithm for each type of laundry. The result is high quality washing and 18% less fabric damage.
*Tested by Intertek March 2019 Cotton wash cycle with 2kg underwear compared to LG's regular cotton wash cycle (compare F4V9RWP2W and FC1450S2W). Results may vary depending on clothing characteristics and environmental conditions.
Save water and time with EcoHybrid
EcoHybrid technology allows you to save water or shorten the drying cycle. Choose either an economical drying mode without using condensing water, or a standard drying mode, which shortens the overall drying cycle and reduces energy consumption.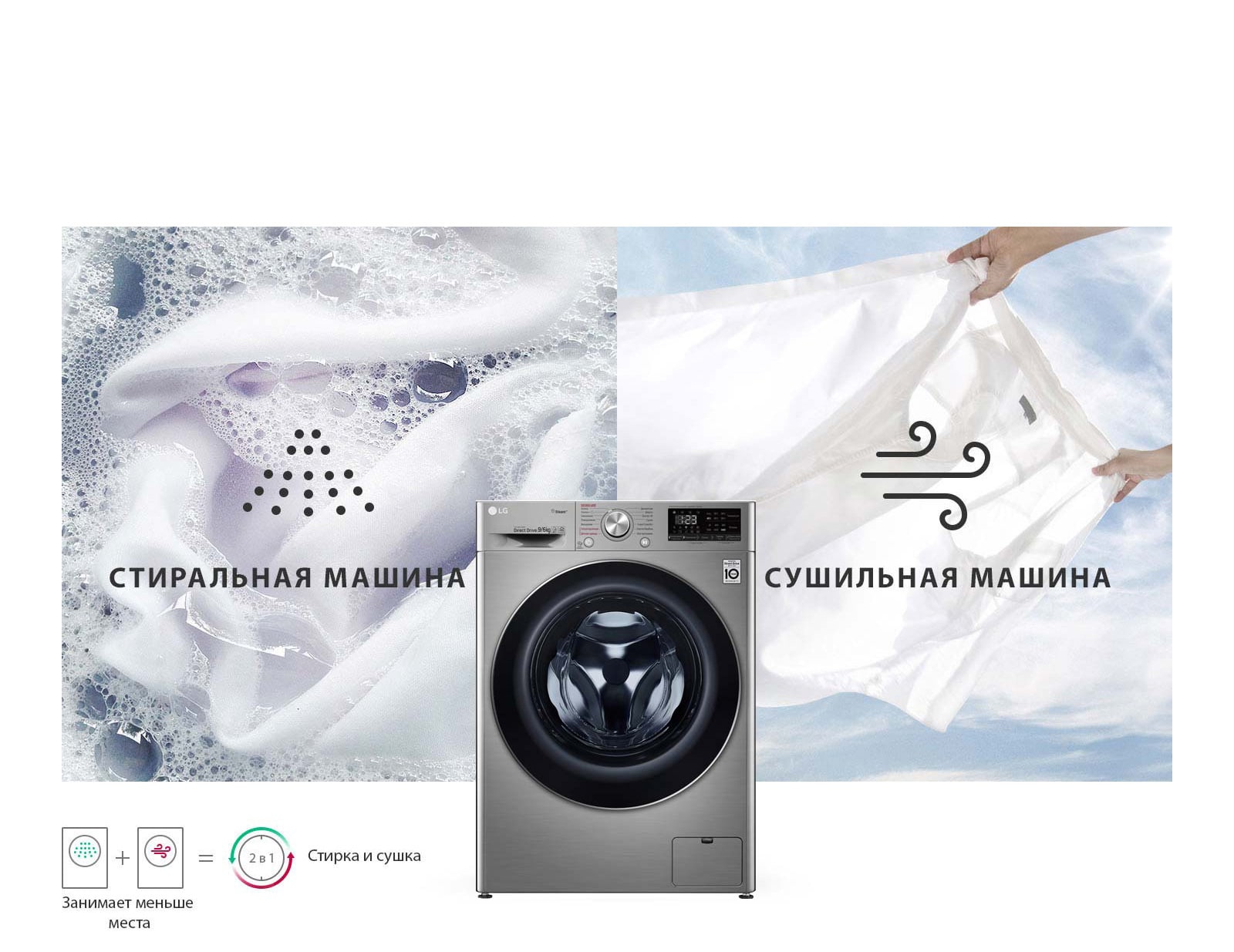 Washing and drying in one machine
The LG universal washing machine with drying function is another leader in the home technology market. Save space at home and put it to good use for your family.
LG Steam+™ technology removes up to 99.9% of allergens such as dust mites.
*Up to 99.9% allergen removal verified by BAF
*Tested by Intertek December 2018 based on AATCC standard. Cotton wash cycle with wrinkle removal option (3 mixed shirts) compared to cotton wash cycle without this option. Results may vary depending on clothing characteristics and environmental conditions.
*Additional crease removal function is available for 6 washing modes.
Eliminates allergens by 99.9%
Using the Steam+ steam feature
The elegant tempered glass door is resistant to scratches, chips and high temperatures. The drum ribs are made of stainless steel, which has antibacterial properties.
*Tested by Intertek in July 2013. Proven germicidal effect against P.aeruginosa bacteria on stainless steel compared to initial bacteria count after 12 days.
Improved display and larger control knob with metal finish.