More volume, same size
SpaceMax™
Store more food with SpaceMax™ technology, which delivers more usable internal volume* with thin, insulated walls without compromising your refrigerator's energy efficiency.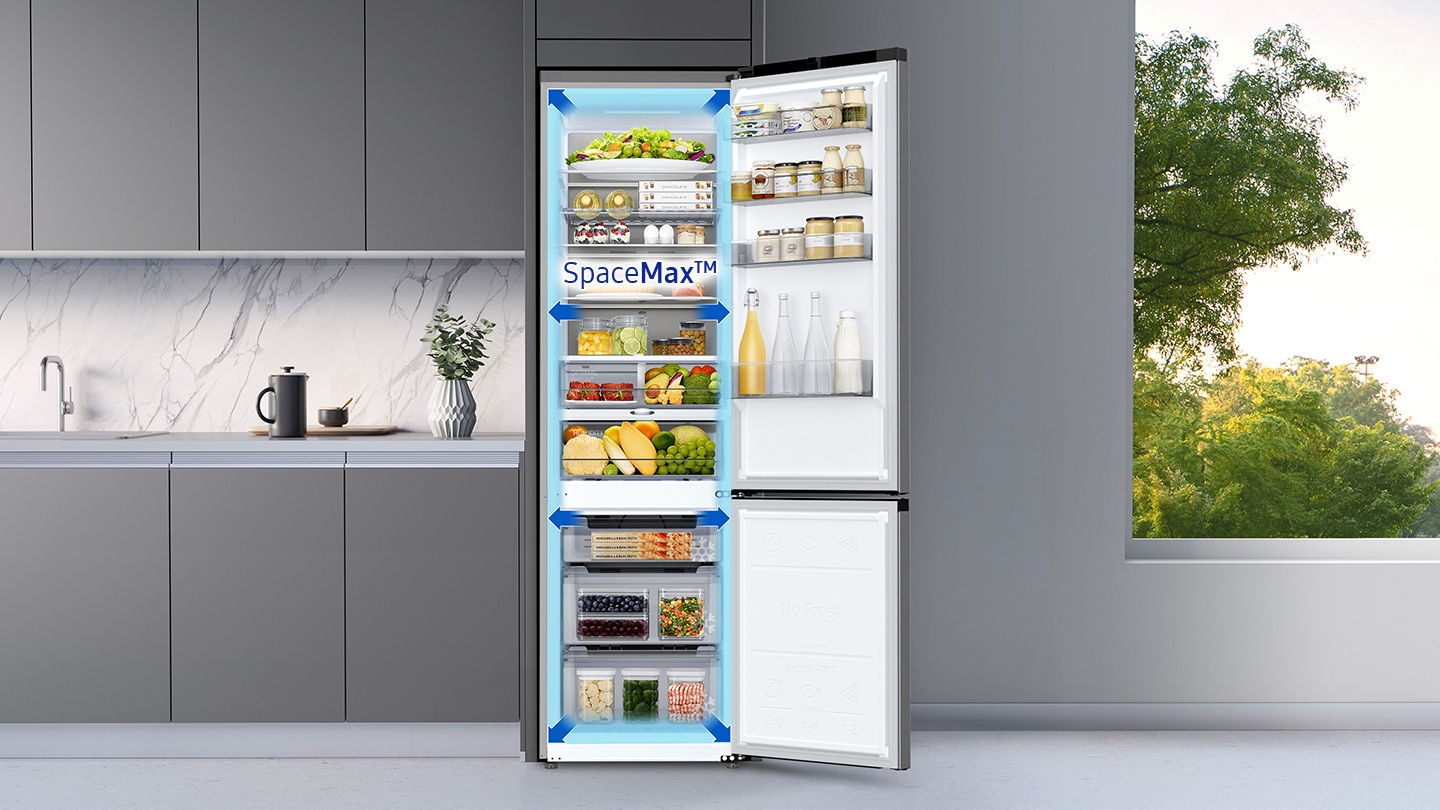 *Capacity varies depending on model.
Cooling from all sides
All-Around cooling technology
The technology allows the corners of the working chamber to be cooled evenly. Cooled air circulates through vents on each shelf, keeping the refrigerator at a constant temperature and keeping food fresh.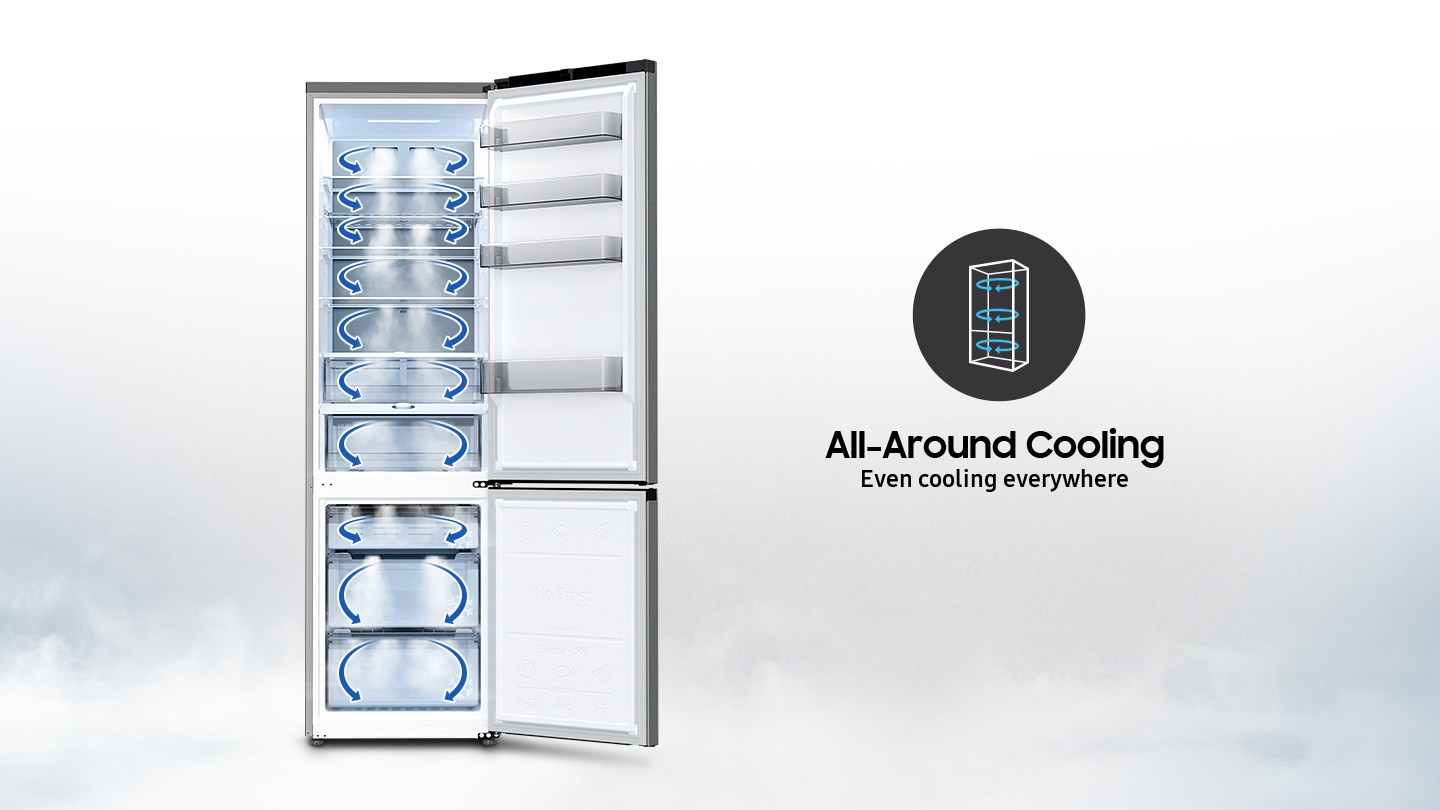 Keeps food cold and fresh
Metal Cooling Panel
The plate keeps the cold inside the refrigerator even if you open it often. As a result, your food stores better. The metal plate on the back wall of the refrigerator compartment optimizes uniform temperature distribution in the compartment. When the door is closed, the refrigerator quickly restores the set temperature.
Forget about ice formation
No Frost
No Frost technology prevents the formation of ice on the walls of the refrigerator and ensures that a constant temperature is maintained in every corner of the chamber. In addition, this system speeds up the cooling of the working chambers, thereby reducing the load on the cooling system.
Ideal freshness conditions – twice as long
Optimal Freshness Zone+
The Fresh Zone is a drawer in which two temperature zones are created. The left side can be colder, thereby creating better conditions for meat and fish. The right side is great for storing vegetables and fruits.
Dual temperature mode
Single temperature mode
*Tested by Intertek on RL38T775CSR and RB34K6252SS. Applicable in MAX mode. Results may vary depending on conditions. The results are based on a study of food samples after storage.
Optimal humidity
Humidity Fresh+ Humidity Control
Maintain food's original texture, taste and smell for a longer period. The humidity control box is activated by simply turning the handle. Inside, ideal conditions are created for storing fruits and vegetables, so that they remain fresh and juicy.
Rapid cooling and freezing
Take advantage of the Quick Chill option to help cool any food item faster. Fast freezing due to the intense flow of cold air allows for faster ice production and deep freezing.
Even more space
Large door pockets
Store more food in door pockets without wasting space inside shelves. Wide and deep door pockets allow you to safely store more bottles, cardboard bags and other items within easy reach without having to take them off the shelf.
Works smart, lasts a long time
Digital inverter
The inverter compressor automatically adjusts the operating speed depending on the cooling demand. As a result, the refrigerator consumes less electricity, operates quietly (35 dB) and lasts a long time.
Clean, reliable and protected
Easy cleaning
Cleaning the back of your refrigerator is even easier. The protective box protects the cables and is easy to clean, so you don't have to worry about the components of the refrigerator.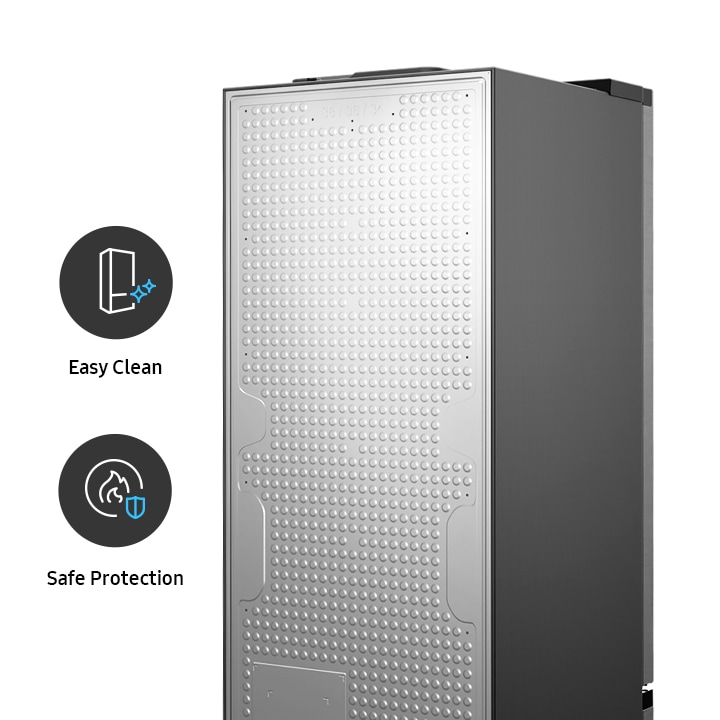 Store it the way you want
Folding shelf
You'll have more space to store your favorite foods of all sizes and shapes with an adjustable shelf.