Volume – more, size – the same
SpaceMax™
Store more products with SpaceMax™ technology, which allows us to get more internal volume through thin walls equipped with thermal insulation, so that the energy efficiency of the refrigerator does not decrease.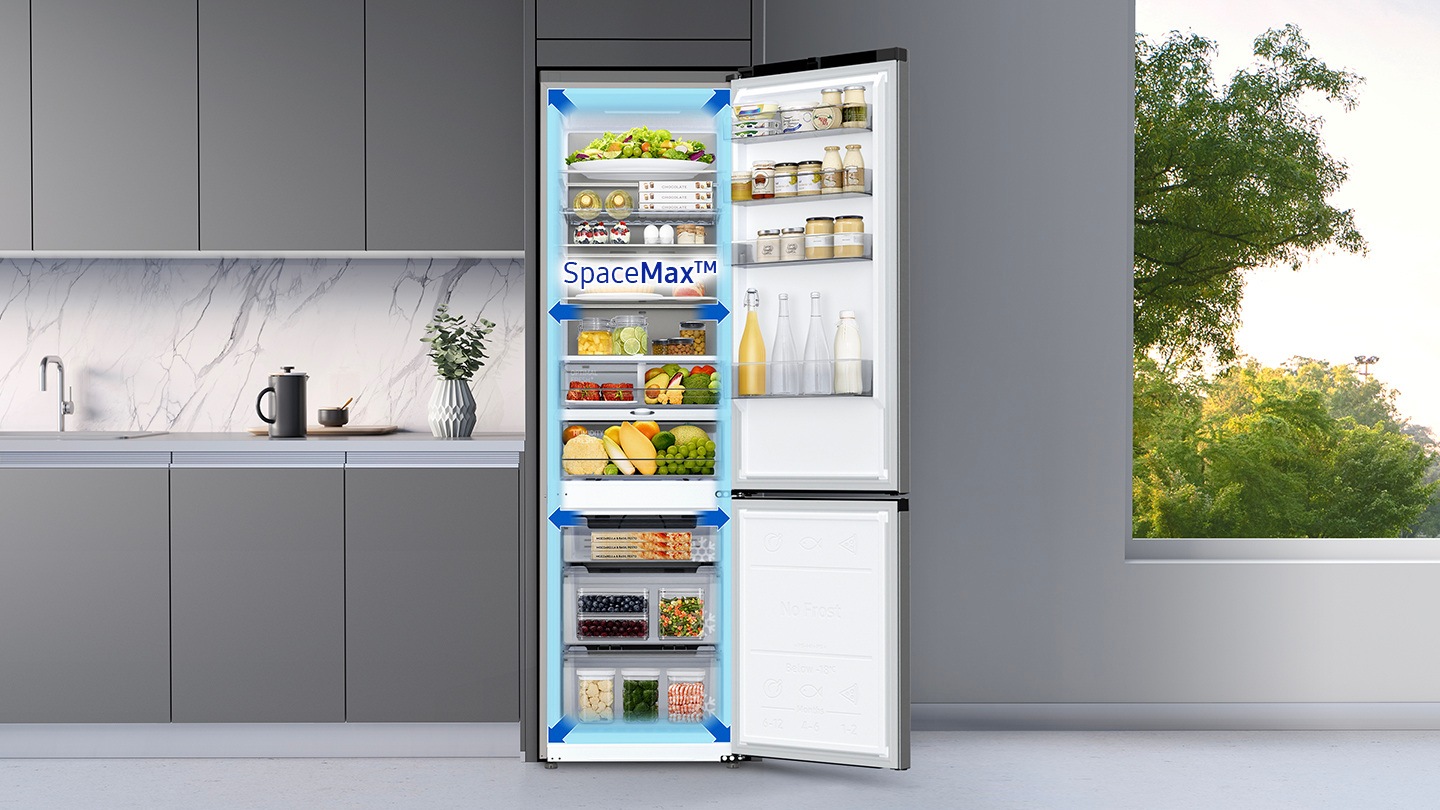 *The volume depends on the model
Cooling from all sides
All-Around cooling technology
The technology allows you to cool the corners of the working camera. Cooled air circulates through the ventilation ducts and reaches all the shelves, and as a result, the refrigerator maintains a constant temperature and the products are kept healthy.
Stored in the cold for a long time
Metal cooling
Keep food for a long time, even if you open and close the refrigerator door frequently. A metal cooling plate in the rear wall helps to maintain an optimal internal temperature. It keeps the cold and blocks the influence of cool air when the doors are opened. And it quickly recovers the temperature loss when closed.
Forget the extra ice
No frost technology prevents the formation of ice on the walls of the refrigerator and ensures that the temperature is maintained in every corner of the chamber. In addition, this system accelerates the cooling of the chambers, as a result, the electricity required for cooling is saved.
optimum humidity
Preserve the original appearance, taste and smell of products for longer. The humidity control cabinet is turned on with a simple turn of the handle. The refrigerator creates ideal conditions for storing fruits and vegetables, so they retain health and moisture.
Rapid cooling and freezing
Power Cool / Power Freeze
Use the quick cooling function, which cools any product quickly. Rapid freezing, at the expense of an intense flow of cold air, contributes to the rapid formation of ice and severe freezing.
Flawless design
Give your home an elegant look. Its standard depth of 600 mm perfectly matches your cabinets. It has beautiful flat doors with a built-in water dispenser*. The minimalist interior features a hidden showcase, a flat wine rack and food containers and boxes*.
* Only available on certain models.
more space
Large door drawers
Store more products in the door drawers and save space inside. Wide and deep drawers allow you to securely store more bottles, cartons and other products so that they are more accessible and you don't have to take them off the shelves.
Works smart, serves you for a long time
Digital inverter
The inverter compressor automatically adjusts the cooling demand. As a result, the refrigerator uses less electricity, works quietly (35 dB) and serves you for a long time.
Cleanliness, reliability and protection
Cleaning the back of your refrigerator is much easier. The protective case protects the cables and is easy to clean, so you can never worry about the refrigerator.
Save as convenient for you
Storage shelf
You can get more space to store your favorite products of any size and shape with an adjustable shelf.